Republic Day Quotes – India celebrates Republic Day on January 26th every year to commemorate the day when the Constitution of India came into effect. On this day in 1950, the Constitution of India, which was adopted by the Indian Constituent Assembly on November 26, 1949, came into force and India became a republic. The Constitution of India was the first Constitution of its kind to be handwritten and calligraphed. The Constitution of India is the supreme law of India, and it lays down the framework defining fundamental political principles, establishes the structure, procedures, powers, and duties of the government, and spells out the fundamental rights, directive principles and the duties of citizens. The day is marked by a grand parade and cultural programs, and the President of India hoists the national flag and gives a speech. Learn More
Republic Day Quotes in English
"Let us pledge to protect and preserve for our children this great land of freedom." – Pranab Mukherjee.

"Freedom is nothing but a chance to be better." – Albert Camus.

"Liberty has never come from the government. Liberty has always come from the subjects of it." – Woodrow Wilson.

"The true source of rights is duty." – Mahatma Gandhi.

"Democracy is not just the right to vote but also the right to live in dignity." – Nelson Mandela.

"Freedom is not a gift bestowed upon us by other men, but a right that belongs to us by the laws of God and nature." – Benjamin Franklin.

"The Republic is a dream. Nothing happens unless first a dream." – Carl Sandburg.

"The only limit to our realization of tomorrow will be our doubts of today." – Franklin D. Roosevelt.

"The strength of a country lies not in its ability to fight wars, but in its ability to prevent them." – Norman Cousins.

"The true test of a democracy is how it treats its minorities." – Mahatma Gandhi.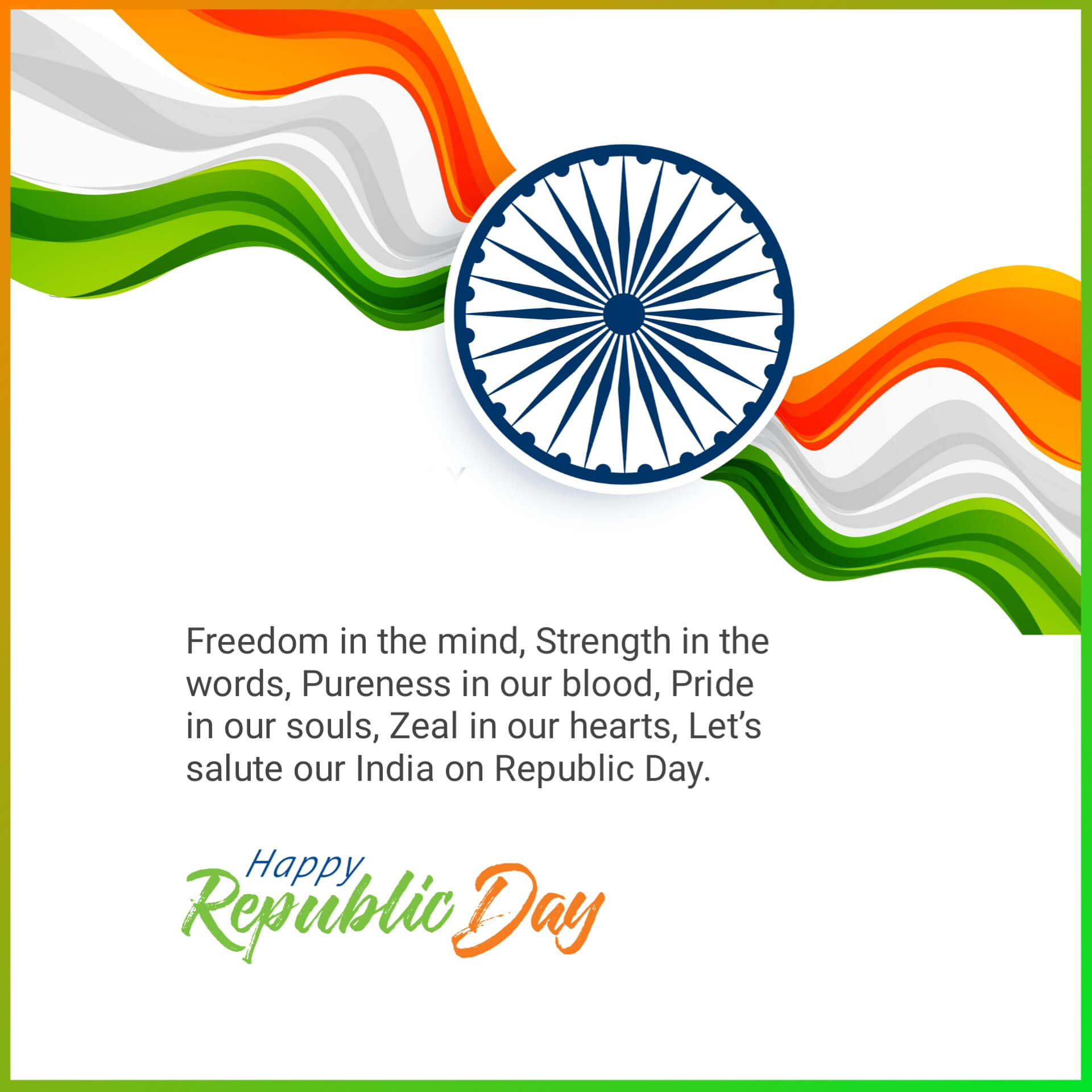 Republic Day Quotes in Hindi
"हम सब को साथ में करके अपने बच्चों के लिए इस स्वतंत्रता के देश को सुरक्षित रखने का प्रतिज्ञा करनी होगी" – प्रणब मुखर्जी
"स्वतंत्रता कुछ नहीं है बल्कि बेहतर होने की सुविधा" – अल्बर्ट कैमूस
"स्वतंत्रता सरकार से नहीं होती, सरकार के सब्जेक्ट्स को स्वतंत्रता ही मिलती है" – वुड्रो विल्सन
"अधिकार का सच्चा स्रोत कर्तव्य है" – महात्मा गांधी
"संवैधानिक सर्वोच्च संस्था की सुविधा ही नहीं है बल्कि उसमें अपने सम्मान से रहने का अधिकार भी होना चाहिए" – नेल्सन मंडेला
Republic Day Quotes One Liner
"Let us celebrate the spirit of freedom and unity that makes India truly great."
"On this Republic Day, let us remember the sacrifices of our freedom fighters and pledge to protect the democracy they fought for."
"The Constitution of India is the backbone of our nation and it is our duty to protect it."
"The true measure of any society can be found in how it treats its most vulnerable members."
"Freedom is not given, it is earned. Let us continue to earn it every day."
"Let us celebrate the diversity of our nation and strive for unity in our hearts."
"On this Republic Day, let us pledge to work towards a better India for all its citizens."
"We are proud to be Indians, let us live up to the legacy of our great nation."
"In a world where democracy is under threat, let us remember the importance of our Constitution and the rights it guarantees us."
"The Constitution of India is a beacon of hope for all those fighting for freedom and democracy."
"Let us pledge to build an India where justice and equality reign supreme."
"The Constitution of India is the foundation of our nation, let us protect it and uphold its principles."
"On this Republic Day, let us remember the sacrifices of those who fought for our freedom and strive to make their dreams a reality."
"Let us celebrate the spirit of unity and togetherness that makes India truly great."
"The Constitution of India is not just a document, it is a reflection of our values as a nation."
"Freedom is not the right to do what we want, but the power to do what is right."
"On this Republic Day, let us pledge to be responsible citizens and contribute to the progress of our nation."
"Let us celebrate the diversity and rich cultural heritage of India and strive to preserve it for future generations."
"The Constitution of India is the cornerstone of our democracy, let us protect it and uphold its principles."
"On this Republic Day, let us remember the sacrifices of those who fought for our freedom and pledge to make India a better place for all its citizens."